THE PEACOCK LIKES TO SHOW HIS VANITY, HIS COLORFUL FEATHERS AND HIS MAGNIFICENT BEAUTY.

HIS FRIENDS THE BIRDS WERE SO HAPPY TO SEE SUCH REGAL AND BEAUTIFUL FEATHERS. BUT ONE DAY AT DAWN THE PEACOCK WAS SO SAD, HIS FRIENDS THE BIRDS WENT TO SEE HIM, BUT HE WAS SAD AND DID NOT WANT TO SHOW ANY PLUMAGE.

HIS FRIENDS THE BIRDS GAVE ENCOURAGEMENT AND FINALLY HE WAS ABLE TO SHOW HIS BEAUTIFUL COLORS AGAIN.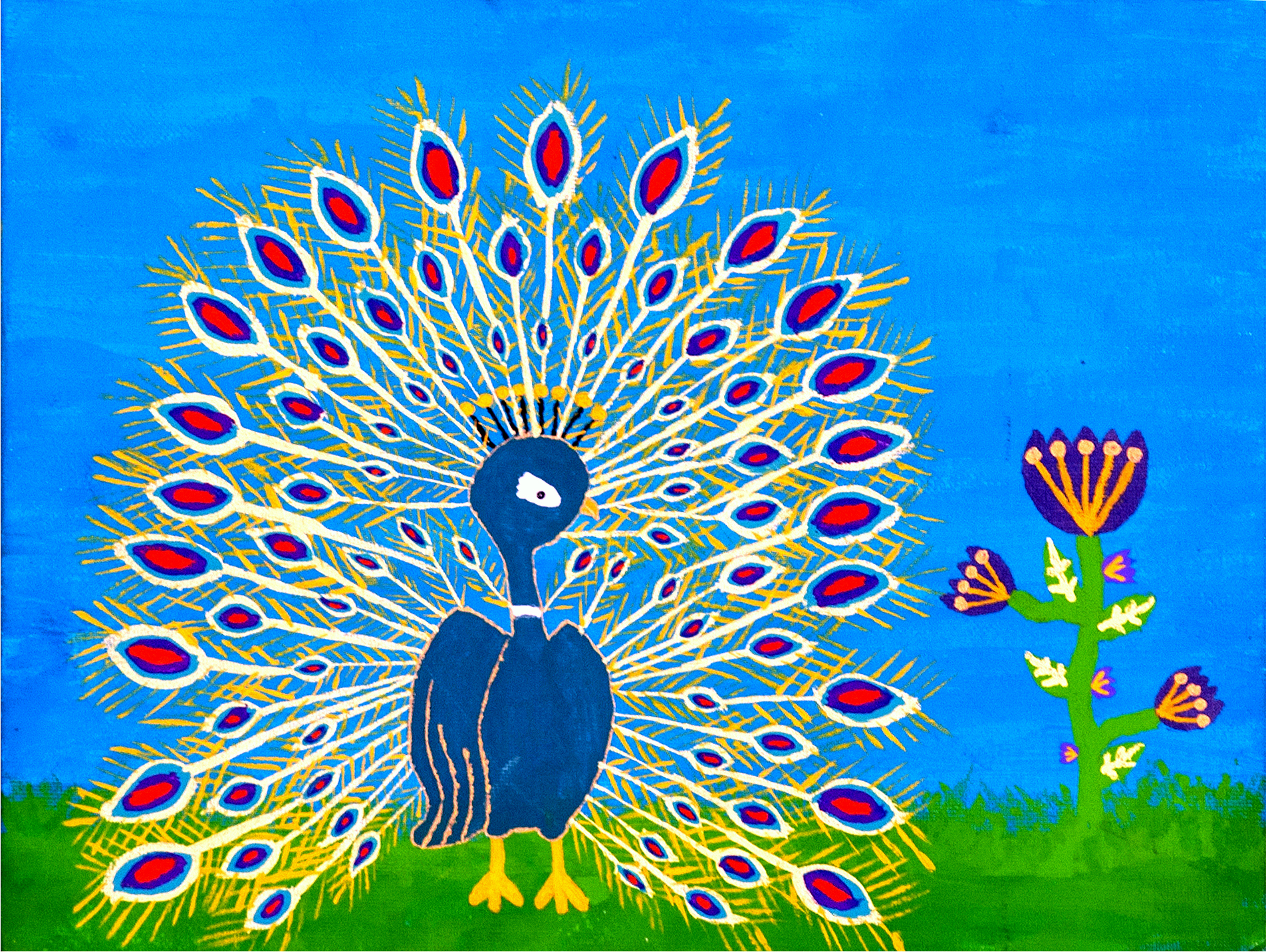 Brenda Evelyn Hernández H. Age 11 (2013)
AL PAVORREAL LE GUSTA MOSTRAR SU VANIDAD, SUS PLUMAS DE COLORES Y SU MAGNÍFICA BELLEZA.

SUS AMIGOS LAS AVES ESTABAN TAN FELICES DE VER SUS HERMOSAS PLUMAS TAN COLORIDAS. PERO UN DÍA AL AMANECER EL PAVORREAL ESTABA TAN TRISTE, SUS AMIGOS LAS AVES FUERON A VERLO, PERO ESTABA MUY TRISTE Y NO TENÍA GANAS DE MOSTRAR SU PLUMAJE.

SUS AMIGOS LAS AVES LE DIERON ÁNIMOS Y POR FIN PUDO MOSTRARLES SUS HERMOSAS PLUMAS COLORIDAS DE NUEVO.